Growth factors are the key natural elements active in humans and animals tissue repair. Platelets release several growth factors located in the alpha-granules: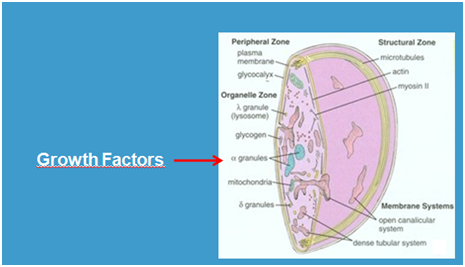 Source: http://quizlet.com/2894813/histo-blood-flash-cards/
Main growth factors are:
PDGF-AA, AB, BB (platelet derived growth factor)
TGF-β (transforming growth factor- β)
FGF b (fibroblast growth factor b)
IGF I/II (insulin growth factor I/II)
EGF (epidermal growth factor)
VEGF (vascular endothelial growth factor)
| | | | |
| --- | --- | --- | --- |
| Growth Factor | Amount (pg/106 platelets) | S.D. | % of MAX |
| EGF | 7.59 | 2.83 | 13.21 |
| bFGF | 2.73 | 0.42 | 35.58 |
| PDGF-BB | 11.65 | 10.42 | 15.02 |
| TGF-β1 | 633 | 300 | 49.17 |
| VEGF | 13.02 | 7.21 | 25.37 |
Source Characterization of Growth Factors in Platelet Rich Plasma, Matthew J Swift, Frank J Lichtenberger and Clay Marsh in www.biomet.com
All these growth factors play a specific role in the wound healing process:
Platelet Derived Growth Factor (PDGF) has been shown to play a significant role in the repair and regeneration of connective tissues.

PDGF plays a role in embryonic development, cell proliferation, cell migration, and angiogenesis PDFG has also been linked to several diseases such as atherosclerosis, fibrosis and malignant diseases.
In addition, PDGF is a required element in cellular division for fibroblast, a type of connective tissue cell.
PDGF is also known to maintain proliferation of oligodendrocyte progenitor cells.

Transforming growth factor beta (TGF-β) is a protein that controls proliferation, cellular differentiation, and other functions in many cells types. It plays a role in immunity, cancer, heart disease, diabetes and connective tissue syndromes such as Marfan syndrome. TGF-β acts as an antiproliferative factor in normal epithelial cells and at early stages of oncogenesis.
Additional healing-associated growth factors produced by platelets include fibroblast growth factor (FGF), insulin-like growth factor (IGFI), epidermal growth factor (EGF), and vascular endothelial growth factor (VEGF), and others. Local application of these factors in increased concentrations through Platelet-Rich plasma (PRP) has been used as an adjunct to wound healing. All these factors act by activating a complex network of functions aimed at tissue repair.
Various products are derived from platelets:
Platelet Rich Plasma (PRP): PRP is blood plasma that has been enriched with platelets by simple centrifugation. PRP contains blood groups and HLA receptors.
Platelet Gel (PG): Platelet Gel is a substance which comes from PRP which is combined with thrombin and calcium or other activators to form a coagulum. This coagulum or "platelet gel" has an extremely wide-range of clinical applications mainly in dentistry and maxillo-facial surgery.
Platelet Lysate (PL): PL is prepared from platelets isolated from whole blood, PRP or Buffy Coat. PL is obtained from platelets by freezing at very low temperatures and thawing. This process is repeated three or four times and the remained supernatant is purified and stored at -20°C. The objective is to remove platelet membranes which may still contain blood group antigens and HLA receptors. Moreover, PL can be lyophilized and thus has a longer shelf-life allowing its industrial use for cell culture and in human and veterinarian applications.